Executive Position
Remote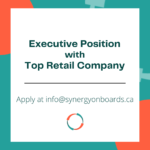 Confidential
Organization Type:
Private Corporation
About your organization:
As Canada's oldest startup, Our Client is a digital-first, purpose-led retailer. Their mission is to help Canadians live their best style of life. They are on a high-growth trajectory to become one of the largest digital retail businesses in Canada through online and Marketplace. If you are looking to join an iconic brand, create impactful change and be recognized for your work, they want you to join their team.
Job Specifications:
The Vice President of Indigenous Relations and Diversity Equity & Inclusion (D, E&I) will develop, oversee and implement a comprehensive Indigenous Relations Strategy coupled with a DE&I strategy and roadmap that aligns with our client's strategic objectives. Responsible for developing, implementing and monitoring programs that promote inclusion and diversity within the company. These include, but are not limited to driving the company's truth and reconciliation journey developing and executing awareness and knowledge programs as well as resolving issues related to the product, marketing and general business challenges. Additional responsibilities include reviewing and supporting the implementation of talent processes, leading the DE&I team, and collaborating with our employee resource groups along with many other initiatives to create and foster an inclusive and diverse environment.
Qualifications:
Bachelor's Degree required; Advanced Degree in Learning or Human Resources related field preferred; Education in Indigenous Relations for Canada preferred. 5+years of direct experience in workplace diversity, equity, inclusion & culture, designing strategy and managing organizational initiatives in partnership with executive leaders. Substantial talent management and/or learning and development experience in fast-paced organizations. Comprehensive knowledge and application of DE&I-focused instructional design, organization design, change management concepts and leadership development principles and processes. An individual who thinks strategically and can establish, articulate,
and implement a vision for the future. Proven influencing and relationship-building skills with internal and external partners and people from various backgrounds and cultures. Practical experience providing formal/informal coaching and development, as well as facilitation in all areas of leadership.Exceptional data analytics skills and experience with DE&I metrics and dashboards, and other measurements of the impact of DE&I initiatives on culture.
Applications for this position are limited to those who self-identify as Indigenous, with the required combination of education and experience.
The annual salary for this role is 180-200K with applicable bonus structure.
Contact Details:
Should you be interested in learning more about this opportunity, please contact
Trish Mandewo at 604-726-0856 or forward your cover letter and resumé to info@synergyonboards.ca.