About Synergy
Synergy is a Diversity Recruiter
What We Do
With service offerings extending across Canada, we specialize in placing, promoting and supporting the advancement of BIPOC subject matter experts and professionals seeking to bring their voices and talents to boardrooms, C-suites and other decision-making tables.    
 At Synergy Executive & Boards Consulting Group, we leverage our skills, networks and connections by supporting companies achieve their diversity goals through building talent pipelines; government and industry stakeholder engagement and management; and through equity, diversity, inclusion and anti-racism consulting. 
Our Vision
Challenge organizations to make a conscious effort to broaden their talent pool by recognizing that diversity is more than just gender, and that intersectionality, diversity of thought brings richness to organizations.
Our Purpose
Take the guesswork out of recruitment, help clients change the narrative by providing a new perspective, lead the way forward by providing diversified candidates and solutions across Canada.
Our Values
Trust: Building trust and rapport with both clients and candidates is key to our success. We are vested in ensuring there is a meeting of the minds for both parties. We strive to have a real understanding of our clients' requirements and culture, getting to know their business intimately, leading to successful placement.
Inclusion: We are fueled by our understanding of the systematic inequalities in senior level positions and on boards. We are committed to helping organizations fulfill their mandate and strategic goals of equity, diversity, and inclusion, giving them a competitive advantage.
Integrity: Integrity lies at the core of our service offering. We act with a high degree of professionalism and honesty in every step we take. We act in the utmost good faith for our clients and candidates.
Our Why
Many companies have equity, diversity, and inclusion as organizational values.  They recognize that diversity and inclusion give them a competitive advantage. The need to fill the diversity gaps is huge, but their limited access to diverse pools of talent presents a challenge. 
According to the 2016 census, more than 1 in 5 Canadians (about 7.7 million people) are visible minorities and 1.7 million are Indigenous. Our Canadian workforce is diverse, so why then are corporate boards and executive positions not diverse?  
Black, Indigenous and other visible minority women, in particular, are grossly underrepresented. We are here to help bridge this gap.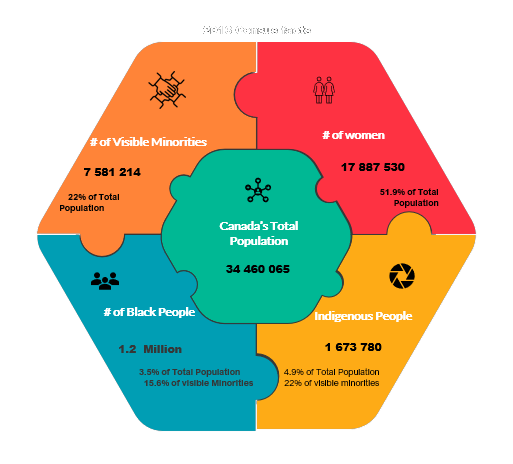 What Makes Us Unique?
We provide you with an exclusive, diverse, highly qualified applicant pool.  

We have an expansive network of executives across Canada that is further enhanced by our partnerships with BIPOC organizations across Canada with regional ambassadors in most provinces.    

We provide added value to your organization based on our proven experience working to promote equity, diversity, and inclusion within executive and board positions.   

We have taken the best of all the recruitment models and created a unique two-tier model that takes care of all the strategic hires carried out by a diverse elite team with more than 30 years of industry knowledge and experience.   

We are proud and happy to be helping our province and our country fulfill the United Nations SDG Goal # 5 – Gender Equality; Goal # 10 – Reduced Inequality; and Goal # 17 – Partnership to achieve the goals.
Our Team
We have a team of subject matter experts (SMEs) and professionals who are here to help organizations of any size fulfill their diversity needs.
Our Partners
We partner with a wide range of organizations and work collaboratively to provide high-quality executive searches, training, and much more.