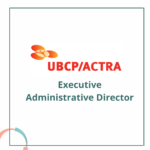 Website UBCP_ACTRA The Union of British Columbia Performers (UBCP/ACTRA)
Organization Type:
Non-Profit
About your organization:
The Union of British Columbia Performers (UBCP/ACTRA) is an autonomous branch of ACTRA (Alliance of Canadian Cinema, Television and Radio Artists), the national organization of professional performers working in the English-language recorded media in Canada. UBCP/ACTRA represents the interests of more than 7,000 members across BC and the Yukon.
Job Specifications:
 Reporting to UBCP/ACTRA Executive Board, the Executive Administrative Director is an inward-facing position overseeing all day-to-day operations of UBCP/ACTRA, including board governance, supporting management in their oversight of unionized staff, creating and implementing policies and procedures, ensuring sufficient HR support and staffing, and nurturing a positive relationship between the Executive Board and the staff. The Executive Administrative Director will foster a positive and productive organizational culture and ensure the administrative efficiency of UBCP/ACTRA.
Qualifications:
This is an exciting opportunity for an innovative and experienced leader who is committed to supporting the strongest union of cultural workers in Canada. The ideal candidate will have a graduate degree (i.e., MBA or Master's in a related or relevant field) with over 10 years of senior leadership experience. The successful candidate will be a results-oriented professional who can work collaboratively, and provide effective leadership and execution of corporate strategy in a complex and dynamic unionized environment.
An equivalent combination of education and experience will be considered. 
The starting salary for this position is $175,000 annually.
Contact
Synergy Executive and Boards Consulting Group and Harbour West Consulting believe that equity, diversity, and inclusion are essential for the organizations we serve to achieve the business goals they strive for. We believe in equal pay for equal work; in finding the best candidates based on skill and competence regardless of gender, ethnicity, age, sexual orientation, disability, religion, political belief, marital or family status, and/or Aboriginal status. We strive to ensure the recruitment process unfolds in a fair, transparent, timely and open manner to include individuals previously underrepresented or discouraged from participating.
How to Apply
Should you be interested in learning more about this opportunity UBCP/ACTRA, please contact Trish Mandewo at 604-726-0856 or Carol Robinson at 604-998-4032, or forward your resume and a letter of introduction to info@synergyonboards.ca or info@hwest.ca.
All qualified candidates are encouraged to apply; however, Canadian citizens and permanent residents will be given priority. We will respond to all who express interest.