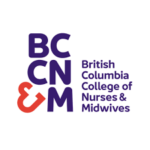 Website BCnursemidwife British Columbia College of Nurses and Midwives
Organization Type:
Public
About your organization:
British Columbia College of Nurses and Midwives is a health regulator set up to protect the public through the regulation of five distinct professions— licensed practical nurses, nurse practitioners, registered nurses, registered psychiatric nurses, and midwives. With over 65,000 registrants, BCCNM sets professional practices and standards for nurses and midwives. These standards ensure the public receives safe, competent, and ethical care, instilling unshakeable confidence in the nursing and midwifery care provided by each of BCCNM's registrants across the province.
Job Specifications:
Committees are critically important to enable BCCNM to fulfill its statutory mandate.
BCCNM's goal is to ensure committees benefit from a variety of skills, diversity, and experience needed to make good decisions. Synergy is seeking diverse candidates who will be shortlisted for up to 12+ positions for the following groups: Indigenous, Black, Persons of Colour, People in LGBTQIA+ communities, and People with lived experience in accommodating/navigating a spectrum of physical, mental health or cognitive (dis)abilities, People from different age groups and People from the diverse socio-economic background.
Board Specifications:
A significant amount of BCCNM's regulatory work is done by committees. The college functions with two kinds of committees: Regulatory committees that support the core regulatory functions of the college and Board Support committees that support the important work of the board. Each committee includes members of the public and college registrants.
Regulatory Committees      
Discipline
Education Program Review
Inquiry
Nurse Practitioner Examination
Professional Practice and Standards
Quality Assurance
Registration
Board Support Committees
Finance and Audit
Governance
Qualifications:
Public members bring their public lens to the committee work, along with the willingness to lean in and learn the skills, practices and knowledge outlined in the committee composition matrices. 
Values and Attributes
Accountability, Honesty, and Integrity
Adaptability
Collaboration
Humility
Inclusivity
Public Service
Self-Awareness
Skills and Knowledge
Anti-Racism and Allyship
BC First Nations and Indigenous Context
Confidentiality
Cultural Safety and Humility
Health Care Terminology
Health Professionals Regulations
Committee Compensation
All committee members are eligible to be remunerated for time (prep and meeting time) spent on the business of the college, in the amount approved by the board, and reimbursed by the college for reasonable expenses necessarily incurred in connection with the business of the college.
Contact
Should you be interested in applying to be on one of these committees, please send your resume and cover letter to Kanu Jacobsen at kanu@synergyonboards.ca. We will respond to all who express interest.